Be totally compliant thanks to ID proofing
In 2019, according to the last European Central Bank Report, the total annual value of fraudulent transactions reached € 1.8 billion per year. So it was essential to set up additional security systems in order to facilitate trustworthy sales and exchanges with clients. The European Commission decided to put into place the 5th AML-FT Directive which requires financial institutions to prevent, detect and report money laundering activities. It is therefore up to these financial institutions to check the identity of their customers, via KYC processes, to ensure that they are not involved in suspicious transactions. Financial authorities in Europe such as the ACPR in France, the BAFIN in Germany or the KNF in Poland, make sure that the regulations are respected.
The European Commission asks that certain sectors, more vulnerable than others to fraud, implement this identity verification process. This is particularly the case for financial institutions such as banks, an ideal target for cybercriminals. Other sectors such as online gambling or adult content are also required to check the ID of their users during the onboarding process, in order to comply with the Standards, which prohibit for example access to certain platforms to those under 18 years old.
In the last couple of years, Regulations have become more stringent facing Fraud increases. In addition to the fact that some sectors have no choice but to apply those Regulations, verifying the customer's identity has become a real need for companies who wish to secure exchanges. A good KYC process offers robust protection against fraud and especially identity theft…
Defend yourself against fraud and identity theft
In 2020, identity fraud represented more than 23% of the total cost of global fraud and was estimated at $56 billion according to a report published by Javelin Strategy & Research. Faced with this growing phenomenon, implementing identity verification solutions during remote customer onboarding was developed in order to establish a trust relationship with the customer. This step is to make sure the customer is who he/she claims to be behind the screen. It also allows companies to fight against identity theft attempts and thus avoid expensive costs linked to fraud, which amount to 42 billion dollars according to a PWC study.
Besides the banking and financial sector, other industries such as telecommunications, transportation or the sharing economy require this service. They execute more and more ID proofing during the customer onboarding phase. As for Telecommunications, their specific fraud challenge is to offer solutions that allow acts and contracts digitization, to limit subscription fraud at the same time.
The SNCF, the French national railway company, wanted to check the age for a special offer dedicated to people under 27 years old. So an ID proofing service was integrated into the onboarding process: it checks the date of birth on the ID document thus ensuring the customer is of the right age to benefit from the offer.
The collaborative economy market is also closely concerned by subscription fraud. Companies that exchange services between individuals, such as "Emprunte Mon Toutou" (dog sitting service), must be able to verify and confirm the identity of each user in order to ensure mutual trust.
Every year, document fraud costs billions of dollars to the global economy. And fraud continues to grow with the Internet and remote customer registration: many companies need to be vigilant. At the same time, users need to feel confident during the remote onboarding so they can flawlessly complete the process.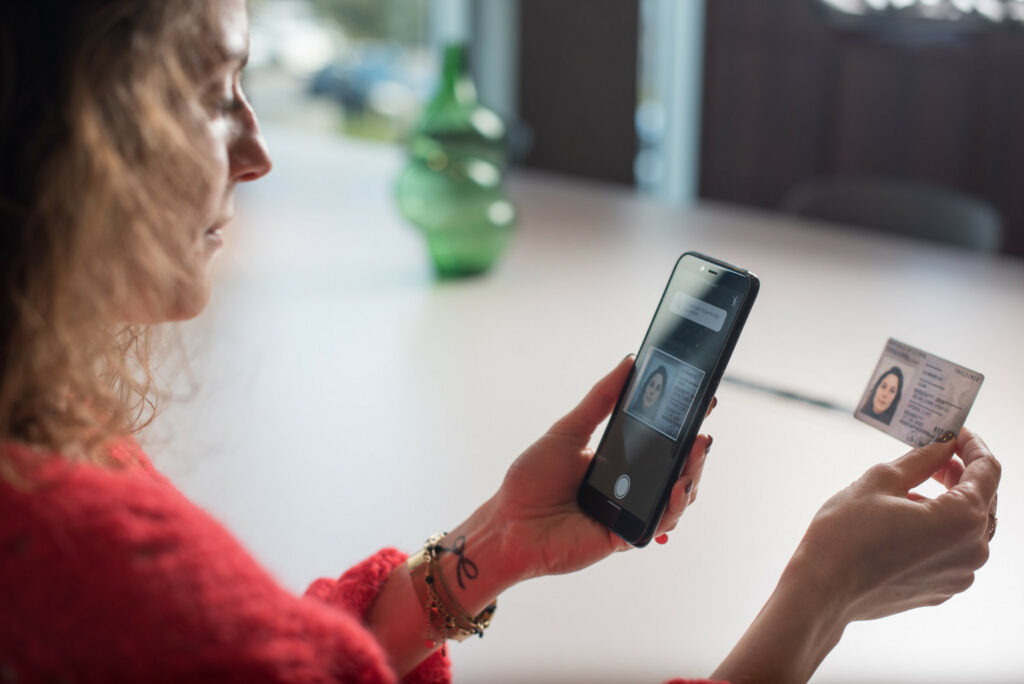 Combine user experience and identity proofing to improve your conversion rate
The customer journey begins with onboarding. Paying attention to this company/customer relationship starting point is a necessity and companies know it. According to a PWC study, the user experience has become an important factor in purchasing decisions for 73% of people worldwide. Along with identity verification, it increases trust during exchanges, especially when transactions are carried out remotely.
Verifying the data by providing secure methods against identity theft, such as facial recognition that compares the user's real-time video to the image on his or her identity document, reassures the user. The onboarding journey has to be efficient: studies have shown that 40% of customers who start client onboarding do not complete their request due to complex manual hurdles in the process. Using services such as automatic document detection digitizes the KYC stage, providing an instantaneous, fluid and simple service to users. With this level of trust, the customer is more engaged and shows loyalty to the company. This KYC journey should welcome the user the best possible way all the while respecting the GDPR regulations.
At first, ID proofing can be considered as an additional step in the onboarding process, but ultimately it is useful because it allows companies to optimize and add value to their service.
In order to provide the needed trust during onboarding, KYC allows identity verification in order to fight against document fraud and money laundering, while offering an optimized user experience. In this context of digital transformation, it is now essential to remotely know the customer and offer a 100% secure onboarding.