Even if we're not aware of it, we go through ID verification almost every day. When we log into a mobile app, open a bank account, subscribe to an insurance policy or rent a car, we have to prove that we are the person who wants to use a given service.
Whereas in the past, face-to-face identification or email and password were sufficient. But with the digitization of services and the increase in cybercrime, there is a growing need for secure solutions, especially for sensitive services.
More and more companies are now using remote ID verification services with a dual goal: fighting fraud and building customer trust. The global identity verification market post COVID-19 is expected to grow from $7.6 billion in 2020 to $15.8 billion by 2025, according to a Markets and Markets research.
Cybercrime and Remote ID Verification
New technologies developments are usually accompanied by new threats.
A LexisNexis® Risk Solution survey shows that both small and large companies, more specifically financial services, have suffered from fraud increase during the Pandemic. In France, the number of cyberattacks has exploded with a 255% increase over the year 2020 according to ANSSI figures, compared to 2019.
Among these frauds, 65% are related to ID theft. Indeed, the digitalization of services has opened new opportunities for hackers.   
Becoming aware of this real scourge has led companies in various sectors, not only those subject to regulation, to implement a remote identity verification solution to ensure their security but also that of their customers.
The need for new solutions is also driven by changing consumer expectations.
A Deloitte survey, UK's leading auditing firm, shows that 73% of users worldwide use online banking at least once a month, and 7 out of 10 users say that the customer experience is really important in choosing their main bank.
Faced with these growing uses and since the pandemic, online services, which have become the hackers' new playground, need protection. Moreover, more and more companies must be able to know and prove their customers' identities, from a regulatory point of view.
ID Verification: a must-have or an obligation?
Identity verification is often associated with financial institutions. Indeed, they are subject to numerous regulations, including the AML-CFT Directive, which requires them to carry out a "know-your-customer" (KYC) process in order to identify their users and get certain necessary information such as age, for example.
This Directive intends to protect both customers and companies against financial fraud, identity theft or terrorist financing. Thus, new organizations, such as telecoms or online gambling are also subject to KYC obligation in the onboarding of their customers and must be able to check the identity of their customer whether in person or remotely.
Although the identity verification process has become an obligation in many sectors, in the digital era, it is still a value-added process. Indeed, whether it is for fraud prevention purposes or to establish a trusting relationship between the company and the customer, identity verification is a real asset for companies that choose to implement it.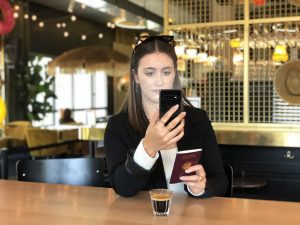 Security = Trust
The speed and security of the remote identity verification process are extremely important assets for both customers and companies. Using this type of solution allows to prevent ID theft and protect personal data.
The identity confirmation step is usually the first step a customer has to go through to use a service. So, if from the very beginning of the relationship, the company provides a sense of security to its customer with a simple, intuitive and reliable process, trust will be established and this will be the beginning of a long term relationship. 
The Future is digital.
Businesses need to implement advanced and comprehensive identity verification tools today to make their service easier and more efficient, both remotely and face-to-face. This will enable businesses in many industries to meet customer experience expectations, market changes and new regulations. Most importantly, it will ensure security, which is the best argument for not distrusting the identity verification process and bringing trust into a remote relationship.