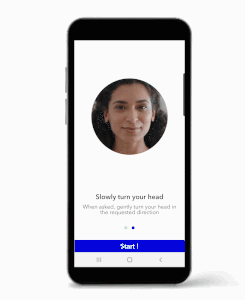 IDCheck.io not only verifies the authenticity of identity documents, but also goes one step further by providing an identity check of the bearer. Indeed, our identity check service aims to ensure that the person who subscribes to a good or service is who they claim to be. Identity verification also ensures that the person is real and present behind their terminal during onboarding. In order to benefit from a reliable and complete KYC (Know Your Customer) process, particularly in remote identification situations, we have therefore developed face biometric verification processes.
Combining identity document verification and biometric facial verification, our service is based on "Machine Learning" technologies. We offer two biometric facial verification solutions: a first solution for face verification by selfie, and a second solution for face verification by video, providing an additional level of security.
With our two enhanced identity verification services, you can check the identity of your customers and ensure that the person registering is who they claim to be. Our facial recognition solutions have FIDO accreditation for the certification of biometric components.