Identity theft is one of the 15 major cyber threats established by the European Network and Information Security Agency in the ENISA Landscape Threatened (ETL) Report 2020. With more than 4,500 types of different identity documents circulating around the world, there are countless ways for fraudsters to get through the net.
According to the PwC Global Economic Crimes and Fraud Report for 2020, no less than 47% of companies have been fraud victims in the last 24 months. The most popular of these are cybercrime or customer fraud. Users become targets also. F-Secure data show that 71% of the Internet users fear cyber-attacks or identity theft.
Today, more than ever, it is becoming essential to integrate into customer onboarding pathway a solution capable of detecting attempts of identity theft and thus counteracting with accuracy and on a large scale. Each fraudulent technique has different characteristics and in order to detect them systematically, it is necessary to establish a set of verifications to inspect each document. These verifications ensure that the document has not been modified, that it is authentic and belongs to that certain person. But pay attention, the more sophisticated the fraud technique, the more necessary it becomes to combine the complementary tools to detect the false. Discover the best ways to fight identity theft during customer onboarding.
What does identity theft mean and how did it evolve?
We are talking about identity theft when a malicious person uses personal data that is specific to a certain citizen, without his consent. In order to do this, the fraudster obtains an identity document on behalf of the victim through various means: counterfeiting, forgery of documents, theft of blank documents … etc. With the usurped identity, the criminal can use the victim's personal data and therefore use their identity to achieve their goals, such as opening a bank account and getting loans that will not have to be repaid, open phone lines and never pay for calls, withdraw money from the victim's bank account, etc … and it is not about to disappear, because the possibilities for fraud are numerous.
As ENISA (European Network and Information Security Agency) points out, cyber-attacks are unfortunately increasingly sophisticated, targeted, widespread and undetectable. In recent years, the rate of identity fraud has risen steadily and today more than half of companies have been affected, at a cost of $ 42 billion.
The increase of the internet user number, the posting of sensitive information online and the changes caused by the COVID-19 pandemic are undoubtedly contributing to the development of this alarming phenomenon. The fight against cybercrime is a challenge in the age of digitalization, so how do you fight against this plague ?
Identity verification in support of the fight identity theft
In order to combat these cyber-attacks, it is essential to integrate a "KYC" (Know Your Customer) process before starting a relationship. "KYC" is the name given to the process of verifying a customer's identity. How does it work in reality? It's simple – when a new customer subscribes to a service, a tool first captures that customer's ID and then reads and extracts the information from the document using an OCR (Optical Character Recognition Tool) tool based on the most recent advances in deep learning and image analysis. Various checks are then carried out to verify its authenticity, and the document is then analysed in less than 12 seconds to obtain a clear and instantaneous verdict on its compliance.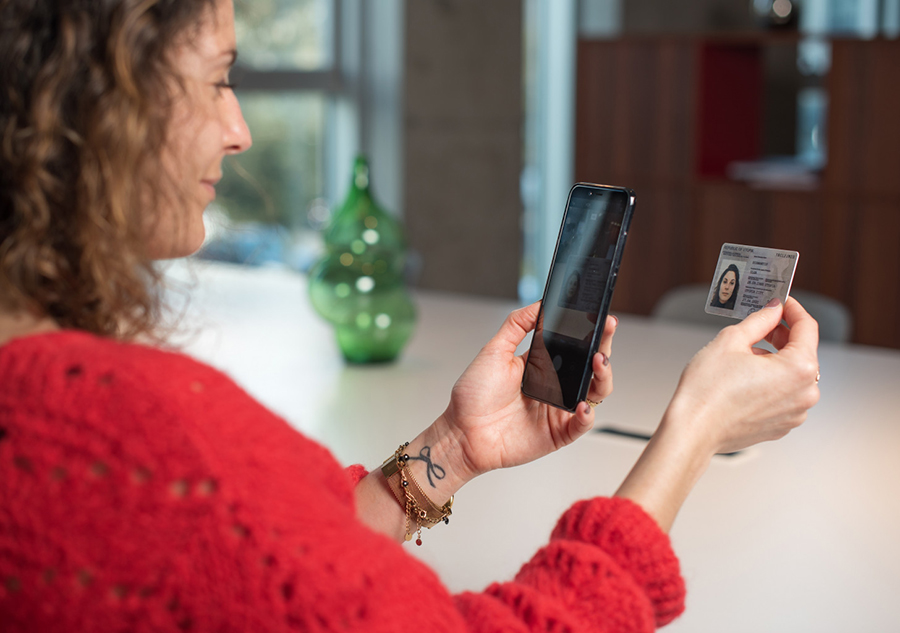 In addition to these constantly evolving verification technologies to better combat this growing plague and increasingly experienced fraudulent techniques, authorities also drew their weapons by implementing new identity documents that are more difficult to compromise. In fact, more and more documents are appearing with a tamper-resistant electronic chip. First electronic and biometric passports, then larger and larger ID cards. The objective? Fight fraud and harmonize digital identity verification processes faster and more securely. Integrating an NFC verification of the electronic identity documents into the KYC journey is part of the best practice and ensures the integrity of the identity document presented by the customer.
Although this step of verifying the identity document is essential to recognize the authenticity of a document, today it is not enough to fight effectively against the best-established fraud techniques of the moment. Therefore, there are even more advanced tools to ensure secure customer onboarding.
New technologies to avoid falling through the cracks
In order not to be left behind by the latest fraudulent techniques regarding identity theft, new technologies, such as biometrics and Artificial Intelligence, are essential.
Combined with human expertise, these technologies can further increase the confidence sought in distance trading. It now depends on the level of trust each person is looking for, but different steps can be integrated into a KYC journey to ensure that the person subscribing to the requested service is the one claiming to be.
In fact, nowadays, fraudsters are looking for the best way to commit fraud and to repeat it over and over again until it is finally detected. By adding additional levels of identity verification, such as facial recognition or biometric recognition, it will be much more difficult for the fraudster to overcome these barriers. Integrating an identity control phase by detecting living beings in a KYC pathway ensures that the person who wants to subscribe to the service is the one they claim to be.
But be aware of the fact that technology is not infallible. By adding a manual verification step performed by a human expert, trained in the detection of identity theft techniques in addition to an automatic verification, a double processing of the identity verification is guaranteed.
At ARIADNEXT, as a KYC solutions provider, we implement state-of-the-art identity verification technologies, capable of combating the strongest identity theft techniques, thus guaranteeing you a reliable journey for customers.