The rise of digital technologies in recent years has led to the emergence of new uses, mainly on mobile phones. Today's users have increasingly high expectations of digital technologies. Instant results, simple and secure usage are among the criteria on which they base their decisions.
With the explosion of online services, companies need to be more and more vigilant during their customers' onboarding processes. Indeed, the protection of customer and company data is becoming a key issue in terms of remote access to information, and requires appropriate solutions.  
This digitalization also promotes the trend of BYOD ("Bring Your Own Device"), which takes a major place in companies. Employees are led to use their personal mobile device for professional use and it represents risks in terms of security and confidentiality for companies.  So how can you protect this data as much as possible while offering your customers the best possible remote onboarding?  
In this article, you will discover how the implementation of secure professional mobile devices coupled with identity verification allows you to improve your customer onboarding processes.
Protect your data and your customers' data using a secure business mobile device
In a digital era where smartphones are everywhere in our daily lives, employees are more and more likely to use their personal mobile phone to perform professional tasks. This practice is confronted to various risks in terms of security and confidentiality for companies. 
First of all, the smartphone may face physical risks, such as theft or breakage, but above all it involves risks of leaks of private company data, caused by the presence of third-party applications (such as Facebook Messenger or Snapchat). Moreover, due to the user's personal use on his smartphone, data can be exposed to external attacks (virus or hacking) and could put the company's business data in danger at the same time.
This is why Famoco has designed a range of mobile devices for strictly professional use, making the protection of corporate data its value. These mobile devices are all developed under Famoco OS (an Android operating system dedicated to businesses) to reduce data leakage to a minimum. Users can access a selection of business applications to perform their tasks, without putting their company's data at risk.
Famoco OS enjoys the same advantages as a classic Android and does not integrate standard Google applications (such as Maps, Chrome or Play Store) which generate a large flow of metadata to Google servers, and drain mobile data. This mobile operating system for professionals adds an additional layer of security to corporate data by reducing the risk of third-party processing of corporate data and the consumption of mobile data (which is expensive for companies managing large device fleets).
With the use of this service, employees can perform their business tasks in a totally secure way, such as inventory management, ticket validation, payment taking or even to perform a KYC process. The KYC (Know Your Customer), consists of knowing who your customer is and  who you are talking to when subscribing to a service. The emergence of new actors in the financial sector such as fintechs or online gambling has raised new demands on KYC processes.
These players need to be able to identify or verify the age of their customers when opening an account, in order to comply strictly with national and international regulations in a secure way. Automatic remote verification of identity documents becomes a key issue for all these organizations. It instantly provides the confidence needed in customer onboarding and helps combat document fraud and money laundering, while providing an optimized user experience. How does it work?
Improve customer onboarding with an automated identity verification service
An identity verification solution provides you a fully automated and instant experience directly from your applications. Based on advanced developments in image processing and deep learning, this service enables companies to verify identity documents, extract information and get a clear and instant verdict on the validity of the analyzed document and the identity of the person. You can then quickly meet KYC requirements online without investing in specific developments.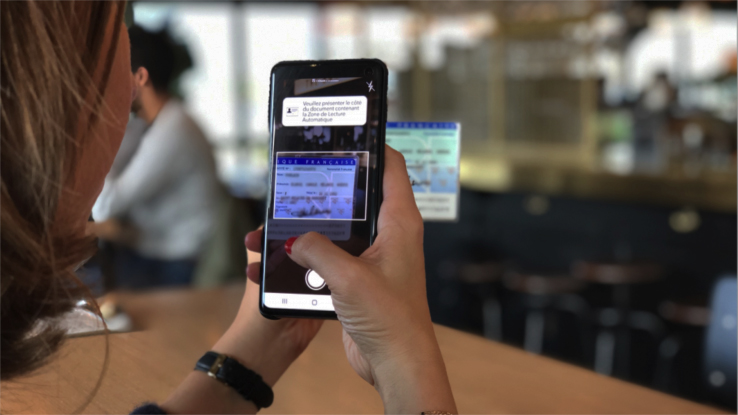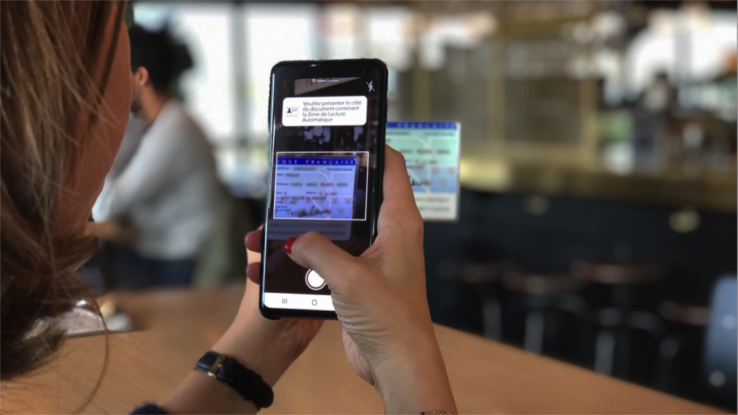 For example, on a mobile device, your customer captures his identity document and informations are analyzed by an identity verification API to validate or invalidate its authenticity. In order to strengthen remote identity checks, the document holder identifies himself through a biometric facial recognition session. 
This liveness detection step, integrated into an identity verification service, adds an additional level of reliability. The solution requires the user to make a slight head movement in order to verify that it is a real person behind the device. Motion detection allows, for example, to notice if the user is wearing a mask during the check. These new technologies provide robust protection against fraud while delivering a smooth and instant customer experience. In this way, you can be sure that the person who wants to register is who he or she claims to be and detect identity theft attempts. 
With regulatory requirements (eIDAS, AML etc.) identity verification plays a key role in the digital transformation of businesses and in the adaptation of KYC processes. In addition, users today have increasingly high expectations of digital technology. Instant results, simple operation and user-friendly workflows are among the criteria on which they base their decisions. Fully automated identity verification improves customers' onboarding processes, secures their enrolment and provides the best digital experience as possible.
IDCheck.io is the reference in automated identity verification solution on the European market that enables you to meet these challenges. 
By using a secure professional mobile device and by adding a remote identity verification step, you provide your customers with a 100% secure mobile onboarding: protected data and instant trust. What does it look like in action?
Telecom case study: discover how Orange enrolls its customers in less than 30 seconds
In December 2016, as a result of Belgian government legislation on the identification of SIM card owners, Orange had to deploy a KYC system across all stores in the country. This was a real challenge for the telecom giant, as it was faced with the identification of more than 3.5 million SIM cards and a highly fragmented distribution network. It was then necessary to quickly design a simple, efficient and secure solution for customers and shopkeepers.
To implement this solution on a national scale, Orange collaborated with Famoco and ARIADNEXT. ARIADNEXT provided KYC with an application to verify the customer's identity and scan the customer's NFC-enabled SIM card to associate it with its owner; an application that identified customers in less than 30 seconds. The KYC application was then remotely installed on a Famoco FX100 devices using a mobile management platform, the Famoco MDM.
The use of professional devices ensures the highest possible security of Orange customers' private data (name, address, ID number, etc.). Data exchanged between the device and government databases. This collaboration has enabled Orange to ensure the identity of its customers from their databases while complying with their confidential requirements.
The solution has been a great success, with 95% of active SIM cards identified in less than 4 months in nearly 1,700 stores. As a result, Orange has received positive feedback from its customers on the efficiency and simplicity of the solution.
The implementation of secure professional mobile devices associated with an identity verification solution will allow you to significantly improve your customer onboarding processes: an intuitive and instant user experience and protected data.